We are honored to announce that Silicon Valley Clean Water (SVCW) was awarded Plant of the Year by the state's professional water organization, California Water Environment Association (CWEA). The Plant of the Year award recognizes accomplishments in compliance, innovative practices, cost effectiveness, and superior plant performance in small, medium and large categories.
SVCW previously won the local Santa Clara Valley Section Plant of the Year award, which automatically propelled us to the state competition for this esteemed award.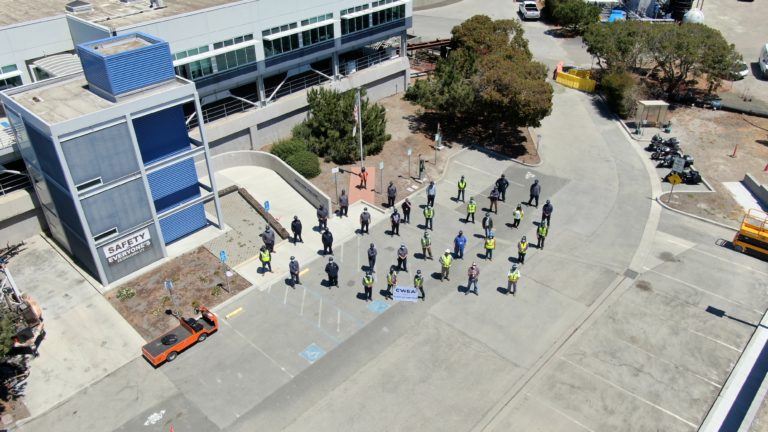 Our SVCW team pulled together to complete the application for the state, prepare a presentation for the selection panel interview and answer questions by the selection committee.
"I believe what really sets SVCW apart is our staff—a team of motivated individuals who have a passion for what they do. Everyone truly buys in to our mission, which is to do everything in the absolute safest manner, from conveying and treating our communities' wastewater to meeting our permits every single day," said Teresa Herrera, SVCW Manager.
That's not all! Other local section awards SVCW was honored to win include:
Plant Safety Award
Research Achievement Award
Engineering Achievement Award
In addition to the CWEA State Plant of the Year award and the local section Plant Safety Award, the local section of CWEA (Santa Clara Valley Section) recently awarded SVCW with the Engineering Achievement and Research Achievement awards!
CWEA considered these four key factors for both awards when selecting SVCW for top honors.
Project Benefits: Health, Safety, Cost Effectiveness, Reliability, Efficiency, or Environmental Benefits
Project Technology: New or Novel, Improvement to Existing Technology, or State-of-the-Art
Experimental Design and Results: Challenges, Cost, Applicability of Results
Other: Any Other Unique Aspect of the Project
The Engineering Achievement award recognizes outstanding engineering research by an individual, group, or agency. SVCW won for its Battery Storage project, which featured the installation of Tesla batteries to optimize and take advantage of our onsite power generation. Read about this project here.
For Research Achievement, SVCW was recognized for its work with Stanford University and wastewater treatment process manufacturers on the SAF-MBR research project. Learn more on our website here.